I know we all love our sky high heels because it elongates the leg and it also adds a sultriness to our walk with a little attitude. However with the market being so over crowded with towering platforms and heels, it's no surprise that heels have come back to a new low. Referred to as kitten heels, they are easier on the feet and more comfortable than four-six inch heels along with a touch of elegance & chicness needed to complete your look. Don't confuse it because stilettos are here to stay but when you need to give your feet a rest and still have a little s_x appeal to your look, kitten heels are the way to go.
Dating back to the 1950's, this look was introduced to teenagers who wanted to copy their mothers with a heel that was age appropriate. This taught young girls how to walk in heels without looking awkward. Audrey Hepburn made the heel an iconic style by wearing them in many of her movies. Though kitten heels didn't stay on top for long, it made a huge comeback because of First Lady Michelle Obama who wears them on a daily basis in a variety of colors.
Now designers every where including high end designers, have created their versions of the heel. From stacked heels to small stiletto heels, kitten heels can be found on boots, sandals and pumps with a typical 1.5 to 2 3/4 inch heel. Anyone at any age can pull these heels off and they make the best transitional piece from day to night. Here are 5 kitten heel styles to get you inspired to rock the look.
1. Prada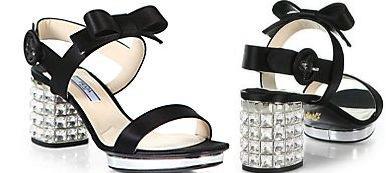 2. Gucci 'New Hollywood' slides

These black Gucci kitten heel slides with the brand's signature 'horse bit' detail are a classic must-have. They are easy to wear and will pair nicely with denim & a cute blouse.
3. Brooks Brothers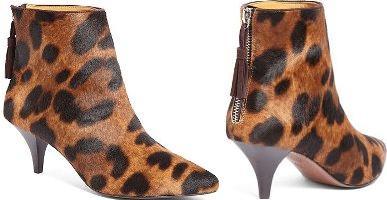 Step into the wild with these Brooks Brothers leopard calf hair kitten heel booties with a leather tassel detail in the back. These are perfect for fall and will perfectly with a office look and for a night out.
4. Jimmy Choo 'Aza' snakeskin metallic pumps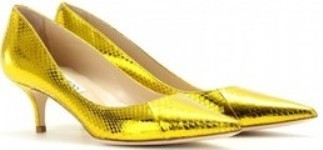 These Jimmy Choo snakeskin metallic kitten heel pumps are not only on trend but will breath life to a simple ensemble. Also it has just enough height for comfort along with a luxe finish to give your evening look a sassy touch.
5. Christian Louboutin 'Manovra' spike slingbacks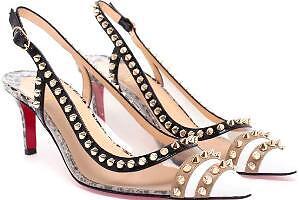 Red bottom designer Christian Louboutin merges together different textures, colors & fabrics with these cute spikeperspex kitten heel slingbacks. These will add a edgy touch to any LBD for a day look and pairing these with bold prints for an evening out with maximize the look of your ensemble. Just make sure to pick a print that will compliment the shoes and work with your style.